It's nearly autumn! That means we're getting closer and closer to Halloween: my second favorite holiday. I've already decorated my apartment and purchased both of my Halloween costumes! Since I'm already in the holiday spirit, I've decided to review a horror novel for this week. So, today we'll be discussing The Girl With All the Gifts by M.R. Carey.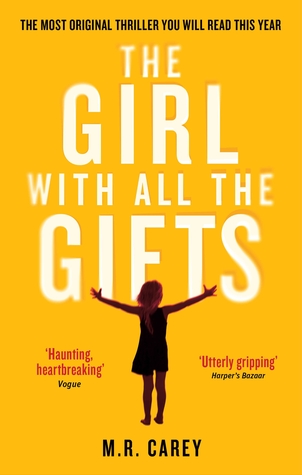 As far as horror goes, this one is more suspenseful than scary. It deals with the aftermath of an apocalyptic event that has caused much of earth's population to either die or become zombies. There are still some humans left, and they are desperately researching the zombies, trying to learn more and find a way to immunize against this plague. As a disclaimer, I really hate zombies and typically don't find them interesting, but I wanted to challenge myself to read this book and I'm very glad I did. I won't go into too much detail about the origins of these particular zombies, but I will say that I found the explanation to be a really interesting take on the zombie genre.
Overall, this is a study on what it truly means to be human. There are two types of zombies here: the mindless ones who destroy without thought and the hungry ones who can speak and learn and rationalize who and what they are. I found this to be much more interesting than the traditional type of zombie. Of course, as the human characters are thrown into the mix, the label of monster becomes relative. Who is the true monster here? What defines a person? These are concepts brought up in this novel that are very interesting to ponder.
I would definitely recommend this book to horror fans who don't need a ton of action or gore to stay interested. This one is definitely more character focused, so it might appeal to non-horror fans as well. It was a slower paced book, but it still felt like a fast read because I was so engrossed in this world. This is the first book I've read by this author, and I'd definitely be happy to pick up another.