As I've stated before, I don't typically gravitate towards romance. However, I read The Rosie Project by Graeme Simsion for one of my book clubs and it was a very fun read.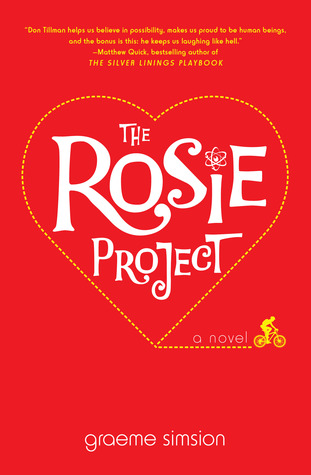 This book centers around a professor named Don Tillman who has decided that he is ready to find a wife. He is quite awkward socially since he is on the autism spectrum, and he creates very specific criteria for his ideal mate and systematically tries to find her. However, he finds himself falling for someone whimsical who doesn't meet his criteria, and she challenges him in ways he didn't even know he needed to be challenged.
This was an adorable romance with other fun subplots. Don is an interesting, quirky main character (kind of like Sheldon Cooper on the TV show The Big Bang Theory). Although it was an adjustment to read in his character's perspective, the character does come across as endearing. The character of Rosie is also a perfect foil for Don, and watching their relationship progress was a lot of fun.
I would definitely recommend this one to anyone who loves both romance and psychology or genetics (both of those topics play a large role in the plot and are detailed well). This was a strong debut novel, although I was disappointed in the sequel The Rosie Effect. To me, this was a perfect stand-alone.