I recently saw some previews for the new film adaptation of Pet Sematary and it made me realize I had never actually read it. I have a huge amount of respect for Stephen King and all that he's done for the horror genre, but his writing style isn't always my favorite, especially in his longer, more recent books. Still, since this one is Classic King, I thought I'd give it a try before seeing the movie!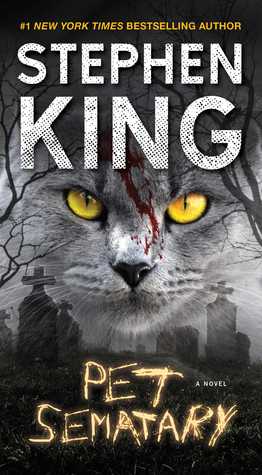 I truly believe that this is one of King's best! It doesn't quite reach the level of my top three favorite King stories: It, The Shining, and 'Salem's Lot – but it was still a very enjoyable reading experience. Generally, the premise is about a young family that moves to a small town shrouded in local legend about a Native American cemetery with powers to raise the dead. I'll avoid giving too many details because I abhor spoilers.
Overall, this novel proves that King is a master of suspense and foreshadowing. Coming in at about 400 pages, this book was much longer than it needed to be (which is another trademark of Stephen King), yet just when the story was seeming to drag too much, hints of future horror were dropped in expert fashion. It was absolutely enough to keep the momentum and intrigue.
I was surprised at how long the buildup took before we got to the crux of the story. Much of the beginning half is devoted to intricate character development, which I did like (but which I know many will not). When we finally get to the story's climax, the rest of the book felt rushed compared to the slow pacing of the beginning, but it still left me with that great eerie feeling long after the last page. Now, I'm super excited to see the two film adaptations as I know this plot really lends itself to a more visual medium!
I definitely recommend this one to readers looking for Classic King nostalgia (before his books became all 600+ pages) and to those who like moderately frightening horror with strong character development!
Thanks for reading,
Tiffany Renee Harmon